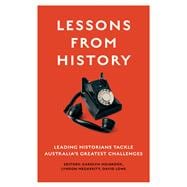 Usually Ships in 5-7 Business Days
Online: 30 Days
Downloadable: 30 Days
Online: 60 Days
Downloadable: 60 Days
Online: 120 Days
Downloadable: 120 Days
Online: 180 Days
Downloadable: 180 Days
Online: 365 Days
Downloadable: 365 Days
Online: 1825 Days
Downloadable: Lifetime Access
This item is being sold by an Individual Seller and will not ship from the Online Bookstore's warehouse. The Seller must confirm the order within two business days. If the Seller refuses to sell or fails to confirm within this time frame, then the order is cancelled.
Please be sure to read the Description offered by the Seller.
Summary
In Lessons from History leading historians tackle the biggest challenges that face Australia and the world and show how the past provides context and knowledge that can guide us in the present. Does history repeat itself in meaningful ways, or is each problem unique? Does a knowledge of Australian history enhance our understanding of the present and prepare us for the future? Lessons from History is written with the conviction that we must see the world, and confront its many challenges, with an understanding of what has gone before. Leading historians including Yves Rees, Michelle Arrow, Mahsheed Ansari, Joan Beaumont, Claire Wright and Frank Bongiorno tackle the biggest challenges that face Australia and the world – climate change, social cohesion, migration, our relationship with China, tensions in the federation, economic crisis, trade relations — and show how the past provides context and knowledge that can guide us in the present and future.
Author Biography
David Lowe is Chair of Contemporary History at Deakin University and co-founder of the Australian Policy and History Network. Recent books include (with Carola Lentz) Remembering Independence, Routledge, 2018 and (edited, with Cassandra Atherton and Alyson Miller) The Unfinished Atomic Bomb, Rowman and Littlefield, 2018. Carolyn Holbrook is a historian in the Contemporary Histories Research Group at Deakin University and the Director of Australian Policy and History. She is the author of Anzac: The Unauthorised Biography, published by NewSouth in 2014, and co-editor (with Keir Reeves) of The Great War: Aftermath and Commemoration, published by UNSW Press in 2019. Lyndon Megarrity is an author, historian and tertiary educator based in Townsville. His most recent book is Northern Dreams: The Politics of Northern Development in Australia (2018).
Table of Contents
Contributors The State We're In Carolyn Holbrook, Lyndon Megarrity and David Lowe Part 1: How a Knowledge of History Makes Better Policy 1. Writing the History of the Future Graeme Davison 2. Learning the Right Lessons? Two Policy Stories Frank Bongiorno 3. Bridging the Divide between Historians and Policy Makers James Walter Part 2: Case Studies 4. Making Time for History: Climate Change and Detoxing from Progress Yves Rees 5. Urban Water Policy in a Drying Continent Andrea Gaynor, Peter Spearritt, Margaret Cook, Ruth Morgan, Lionel Frost, Martin Shanahan and Jenny Gregory 6. War With China Hugh White 7. Past as Prologue: Repairing Australia's Trade Relationship with China Philip Chang, Jeffrey Hole and Kieran Brockman 8. An Open Door? Foreign Investment and Multinational Companies Simon Ville 9. Foreign Aid: Australia's Reputation at Stake? David Lowe 10. We need to hear the voices of refugees: Citizen Engagement for Reforming Refugee Policy Niro Kandasamy 11. 'The Muslim Problem' in Australia Mahsheed Ansari 12. Why Soldiers Commit War Crimes – and What We Can Do About It Mia Martin Hobbs 13. The Far Right Living Within Evan Smith 14. The Genie is Out of the Bottle: Self-determination and First Nations Peoples of Australia Ian Anderson and Laura Rademaker 15. Hard Times: Policy Making, Memory and the Great Depression Joan Beaumont 16. Leaving None Behind: Lessons from Post-War Rebuilding Andrew Leigh MP 17. Learning from the History of Electricity Reform in Australia Jeff Hole 18. Pipelines and catalysts: Women in Corporate Leadership Claire Wright 19. Mothers at Work: Maternal Care and Employment since the 1970s Carla Pascoe Leahy 20. Too Much Talk, Not Enough Action? Federal Government Responses to Domestic Violence Zora Simic, Ann Curthoys and Catherine Kevin 21. Reinvention and Disruption in Universities James Waghorne 22. Looking North: Developing Northern Australia from the South since 1901 Lyndon Megarrity 23. How to Fix our Federation Carolyn Holbrook The History of the Future Carolyn Holbrook, Lyndon Megarrity and David Lowe Acknowledgments Notes Index
An electronic version of this book is available through VitalSource.
This book is viewable on PC, Mac, iPhone, iPad, iPod Touch, and most smartphones.
By purchasing, you will be able to view this book online, as well as download it, for the chosen number of days.
A downloadable version of this book is available through the eCampus Reader or compatible Adobe readers.
Applications are available on iOS, Android, PC, Mac, and Windows Mobile platforms.
Please view the compatibility matrix prior to purchase.